PXW-X70 camcorder review
Sony recently and fully equipped professional camera and has introduced the XDCAM family. Sony has done its best to provide all the facilities needed in PXW-X70 and thereby, run professional-level video applications.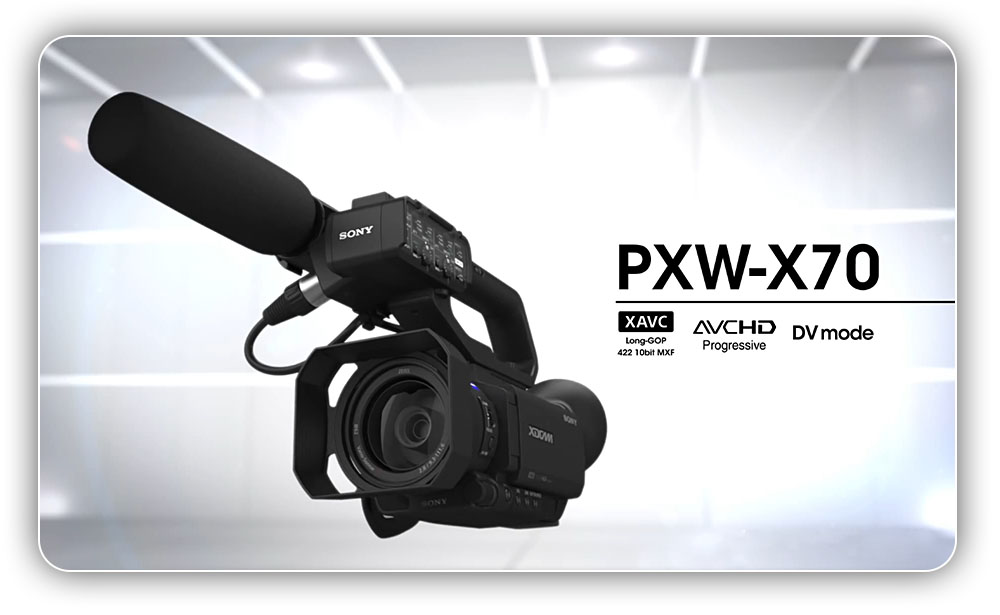 Exmor CMOS image sensor
 The camera's image sensor a lot to say. PXW-X70 camera has a CMOS sensor with a resolution of 20 MP. The camera sensor size even larger super 16mm camera sensor is also able in poor lighting conditions, image quality and low noise recording. The large size of the sensor increases sensitivity to light and allow night-time imaging. In addition, the new models feature HD video recording mode has XAVC long GOP.
Users always expect the quality of the images are very sensitive and bought cameras, to meet their expectations. CMOS sensors thanks to the technology Exmor enjoys a very realistic and natural images are displayed. High sensitivity and resolution 14.2 million pixel sensor, even in poor light conditions is also able to maintain desirable color and detail images. Exmor R CMOS sensor, thanks to the 1.0, PXW-X70 supports high sensitivity 1/2 inch sensor is brighter than the 0.67 stop. The camera resolution is also a significant advantage over their peers in other cameras.
Lens Carl Zeiss Vario-Sonnar

Users have to zoom, lens and it features a lot of attention and expect the camera lens can best meet their needs. Vario-Sonnar T lens PXW-X70 has a wide angle equivalent Eiss 29 millimeters. The wide angle helps the user to see more detail of the subject in the image. The camera's 12x optical zoom is equal and with up to 24 times and through select Clear image Zoom mode is provided. Users can zoom using the Extender, this amount increased three-fold zoom (48x) and subject to more detailed imaging, without reducing the quality of thought.The switch from wide-angle to telephoto, the camera gives professional aspects.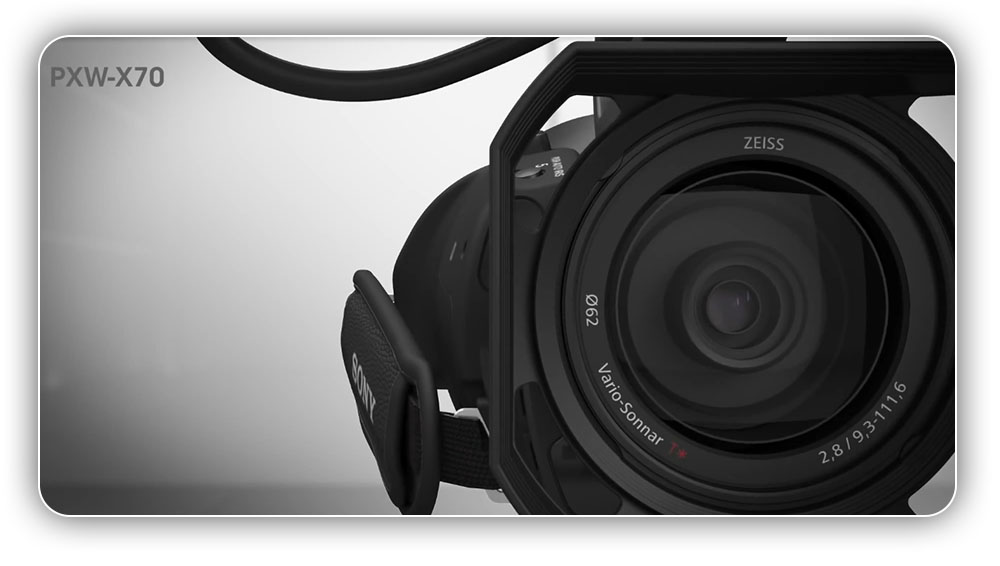 ND filters
 PXW-X70 contains the settings for the shooting conditions with bright light and ND filters to reduce the amount of light into the camera lens, is very useful. In addition, the Advanced Filter ND, implementation of imaging techniques, such as using a slow shutter speed and aperture settings in bright daylight easier for users. In fact, the ND filter acts as sunglasses on the eye and gives special effects to images.There are four options to set filters Clear, ¼, 1/16, 1/64.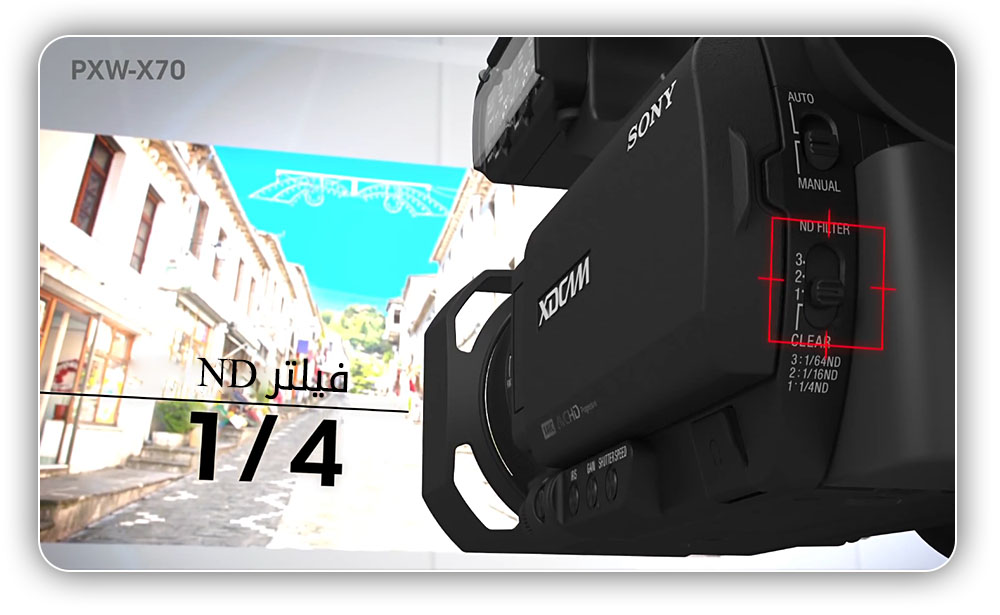 WiFi capability

Featuring PXW-X70 camera that earned great popularity among users, feature Wi-Fi / NFC camera that allows the connection between mobile phones and tablets provide.
As already noted, the capabilities of the full use of the camera function of NFC (Communications closely), which is by downloading software (content Browser Mobile), the smartphone or tablet connected to the camera and some of its settings under control. The software can be downloaded from the App store or Google Play Store. It should be noted that users are able to record video files to the formats MP4, transfer from the camera to your smartphone.
3.5-inch OLED screen viewfinder
PXW-X70 video camera equipped with an LCD touch screen and 3.5-inch (1.56 million-pixel resolution and 16: 9) that can easily display the information, even in different lighting conditions, be visible. Also, OLED viewfinder and a 0.39-inch high resolution (resolution 4: 3). The brightness and contrast of the viewfinder so is the quality that meet the needs of users.
XLR input
About physical appearance and body PXW-X70 camera that we're talking, we're PXW-X70 compact shape and weight is relatively light, so easily held in the palm of the user's hand. Weight handle the camera with XLR, battery, lens hood and eye less than 1.4 kg. PXW-X70 operates the output is also very professional. Dvkhrvjy 3G-DSI and HDMI as well as two XLR output is available so that users can display videos stored on professional monitors. XLR output for recording real sound and transparent, very user-friendly.
Side buttons
Sony thought ideal for the more professional the camera lens. Many users tend to have manual control over some camera functions. 

On the handle lever to control zoom and the camera body is PXW-X70.
Depending on user needs, PXW-X70 features video recording provides solutions for solving. Several options include recording format XAVC, AVCHD, DV available and puts users. This model is able XAVC Long Gop 422 10.bit file format with a resolution of 1920×1080 50p / 60p / 50i / 60i / 30p / 25p / 24p and at 50 and 35 megabytes per second, a resolution of 1920×1080 50i / 60i in 25Mbps as well as 1280×720 50p / 60p at 50Mbps recording.
Storage facilities
Like previous models of camera memory card for file storage has two chambers. This enclosure is compatible with different cards, including Memory stick PRO Due, Memory Stick PRO-HG Due, Memeory stick XC-GH Due card DSXCSDHC.
Users can Simul or Relay files to a memory card for recording. Simuli mode allows simultaneous recording to both cards in there, while in Relay mode, and when the capacity of the card is completed, the camera automatically switches the recording to the first card to the second card. One can even record separately carried out, which means that when the Simuli is selected, users can make adjustments on the button Start / Stop camera has imposed one on the handle and the other on the camera body, and the method of recording each card has separately started or stopped.
Shoe couple relationship
Meanwhile, Sony, according to the interest and demand from users, this camera is equipped with a hot shoe couple relationship (Multi-Interface shoe) that allows the handle and prepare, and the handle features such as stop / start recording, control zoom and sound are available. In addition, these shoes can be used to connect an external flash or other accessories like the microphone and the electronic viewfinder can be used.
The camera exposure settings provides great possibilities for puts. The body of the camera, special buttons for changing and adjusting the aperture, gain and shutter speed embedded image through which light image quality can be changed.
Very often it happens that you want to move the recorded video or record faster. Other features of the camera PXW -X70 to move fast.PXW-X70 is capable of this performance with a Full HD display quality. Select only 25p recording format and frame rate of 50fps, it is easy to move with less applied twice as fast. As for fast motion, the frame rate is set to 1 fps. Members note that in order to implement the S & Q ;, is needed to XAVC and AVCHD camera settings and manual mode (no mode DV) is The camera can be up to 7 different image settings, including gamma and color settings, stored in the memory as a Picture Profile.
SDI and HDMI output
In addition, the camera is embedded PXW-X70 several useful output, which includes output 3G HD-SDI, HDMI, USB and component are.This output can be used to connect to professional monitors, computers, mixers and other equipment used.